At Albireo Energy, sustainability is built into every aspect of our smart building solutions and services to deliver impact for our stakeholders.
From reducing energy consumption in a client's building to supporting our local neighborhoods, we believe that we can make a difference in the world in which we live and work. Our mission to deliver mutually beneficial outcomes with each of our key stakeholders – employees, customers, vendors, and investors – is strengthened by our commitment to environmental, social, and governance (ESG) responsibility and accountability.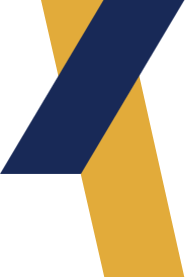 Environmental
We seek to provide solutions grounded in climate preservation by optimizing energy options and costs for our customers. Through investments in innovative technology and services, our smart building solutions reduce natural resource consumption and greenhouse gas (GHG) emissions, improve air quality and occupant comfort and safety, and enable more efficient, cost-effective building operations.
Social
We take pride in our diverse and talented workforce, supported by our employee-first culture. We reward our employees for their contributions, help them develop towards their desired career path, and make everyone feel included, welcomed, and heard. The safety of our employees and contractors is our key priority. Our robust safety programs ensure everyone is well-trained for their duties, vigilant about identifying, reducing and avoiding hazards, and reassured that no task is considered too important or scheduling deadline so critical that safety is compromised.
Governance
Our board and management team are dedicated to embedding our values and ethical commitments into every level of the organization. In addition to overseeing our enterprise risks, they guide and support our ESG strategy and initiatives.
Impact Approach
We understand that our actions reinforce our commitments every day.
We formed a diverse, cross-divisional Sustainability Governance Committee to spearhead the coordination of our ESG efforts. The Committee provides reports to our President and CEO, and to our Board on a quarterly basis. We are intent on furthering the integration of sustainability and social responsibility into our business strategy and processes to enhance our long-term success.
As an initial step in this effort, we decided to align our internal ESG framework with the United Nations Sustainable Development Goals (UN SDGs). The 17 UN SDGs are aimed at addressing environmental, social, and economic global challenges that require attention from countries, companies, and individual citizens. As a company dedicated to advancing smart building solutions, supporting our talented employees, and giving back to our communities, we have a role in substantially contributing to the aims of these goals. We have identified seven specific UN SDGs that directly align with Albireo's impact strategy and the services and solutions we provide our clients.
Environmental Initiatives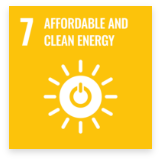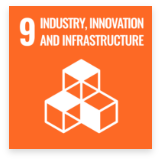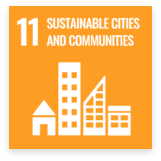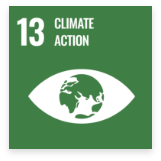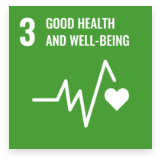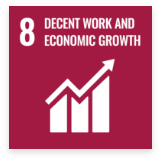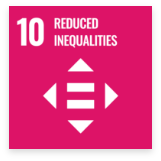 Customer Health and Safety
Our technology-enabled products and services are at the forefront of smart and healthy buildings, and have been invaluable resources for our clients throughout the pandemic. Our Master System Integrator (MSI) solution offers integrated technology such as people counting for individual rooms and elevators, room cleaning indicators, apps for touchless interactions (e.g. wayfinding, room scheduling), all addressing safe areas of the workplace and personal comfort. Our patent-pending BEYOND Comfort solution more efficiently circulates and regulates airflow. Additionally, our digital preventive maintenance and remote monitoring services provide our customers with comfort and assurance without the need for on-site visits.
Employee Health and Safety
The International Labor Organization estimates that 2.3 million workers die every year from work-related injuries and diseases, and an additional 313 million suffer non-fatal injuries per year, accounting for 4% of world GDP lost as a result.8 Employee well-being and safety are paramount at Albireo Energy. Our philosophy is simple: we are dedicated to ensuring that each employee arrives safely to their home and family every day. Our safety organization, policies, procedures, and training programs are designed to provide our employees and subcontractors with the necessary knowledge, tools, and skills to keep themselves and others safe. A zero-accident mindset is the basis of our safety culture, reinforced through positive messaging, rewards, recognition, and interactions between employees at all levels. Reaffirming our commitment of making safety a core organizational competency is one of the objectives of our three-year strategic plan, Ambition 2023.
Great Place to Work
One of the foundations of Ambition 2023 is to create an environment where Albireo is viewed as an employer of choice. Our annual profit-sharing plan ensures our employees share in our success, and we are expanding our compensation and recognition programs to align with our short-term goals and long-term value creation. We also remain dedicated to achieving the highest employee retention in the industry supported by our employee-first culture. As a result of our steadfast commitment, Albireo was certified, for the fourth consecutive year, as a Great Place to Work in 2021.
Diversity & Inclusion
Albireo's human capital is the most valuable asset we have. The collective sum of the individual differences, life experiences, knowledge, inventiveness, innovation, self-expression, unique capabilities, and talent that our employees invest in their work represents a significant part of not only our culture, but our reputation and our ability to succeed. A diverse and inclusive workplace can drive innovation, enhance productivity, and increase employee wellbeing, satisfaction, and retention. To foster, cultivate, and preserve a diverse and inclusive culture, Albireo kicked off our Diversity & Inclusion (D&I) Initiative in 2021 with the formation of a D&I committee. Our D&I committee will enhance and promote our D&I efforts by developing policies and practices related to recruitment, reward, professional development, and other programs.
1International Energy Agency. 'Energy efficiency 2O18: Analysis and outlooks to 2O4O', viewed September 18, 2021: https://www.iea.org/reports/energy-efficiency-2018
2 EPA Energy Star, About ENERGY STAR for Commercial Buildings, viewed September 18. 2021: https://www.energystar.gov/buildings/about-us
3 U.S. Department of Energy Office of Energy Efficiency & Renewable Energy, Buildings Technology Office, Data Centers and Servers, viewed September 17, 2021: https://www.energy.gov/eere/buildings/data-centers-and-servers
4 U.S. Energy Information Administration, Use of energy explained: Energy use in commercial buildings, viewed: https://www.eia.gov/energyexplained/use-of-energy/commercial-buildings-in-depth.php
5 U.S. Department of Energy Office of Energy Efficiency & Renewable Energy, Buildings Technology Office, About the Commercial Buildings Integration Program, viewed September 18, 2021: https://www.energy.gov/eere/buildings/about-commercial-buildings-integration-program
6 Siddik, M.A., Shehabi, A., & Marston, L.T. (2021) 'The environmental footprint of data centers in the United States', Environmental Research Letters, 16. https://iopscience.iop.org/article/10.1088/1748-9326/abfba1
7International Energy Agency, Net Zero by 2050: A Roadmap for the Global Energy Sector, viewed September 18, 2021: https://www.iea.org/reports/net-zero-by-2050
8International Labor Organization, Decent work for sustainable development (DW4SD) Resource Platform: 12. Health and Safety at the Workplace, viewed September 18, 2021: https://www.ilo.org/global/topics/dw4sd/themes/osh/lang–en/index.htm