Become a partner, start selling energy, and build your energy brokerage
We'll provide tools and resources to set you up for success.
Fill out the "Become a Partner" form below and our partner onboarding specialist will be in touch.
About Albireo's Energy Procurement Services
Our team delivers energy risk management solutions for commercial and industrial customers. We use our proprietary data platform and tap into a vast network of suppliers to build and deliver custom procurement strategies.  
Our customers benefit from a competitive bidding process backed by a layered buying program to help meet long-term budget goals. With endorsements by city governments, like Boston and Philadelphia, 50%+ of our portfolio has given us power of attorney to contract on their behalf.
Albireo's Energy Procurement Advantage Partner Program
We develop strong, enduring partnerships with those who share our dedication to delivering exceptional customer value. Albireo's Energy Procurement Advantage Partner Program provides you with the resources and expertise to grow your energy procurement business. Exclusive tools and benefits you'll receive include:
Access to Utility Module, our advanced billing platform and proven solution for managing energy and utility bills
Choice of multiple payment options, including upfront payments from all suppliers
Access to Albireo's Energy Procurement CRM portal to manage your clients and sales agents
Use of our white label platform, which enables you to custom-brand our technology to build your identity
Use of our energy licenses in markets nationwide, expanding your reach and opportunities
Ongoing support and training from a skilled, experienced account manager
How the Advantage Partner Program Works
In addition to the access to tools and resources crucial to success, you'll enjoy benefits that will take your business to the next level. By reaching designated standards of performance that determine your "status," you can further build your business and your commissions.
Your status is determined by the total number of energy units (1 kWh = 1 unit, 1 therm = 10 units) you have sold over a rolling 12-month period. Partners who achieve a higher status will receive access to special sales promotions, perks, and other rewards including higher commissions.
Every kilowatt-hour (kWh) of electricity equals 1 unit. Every therm (thm) of natural gas equals 10 units. So, for example, if a client who consumes 100,000 kWh annually signs a four-year contract term, you will earn 400,000 units toward your status.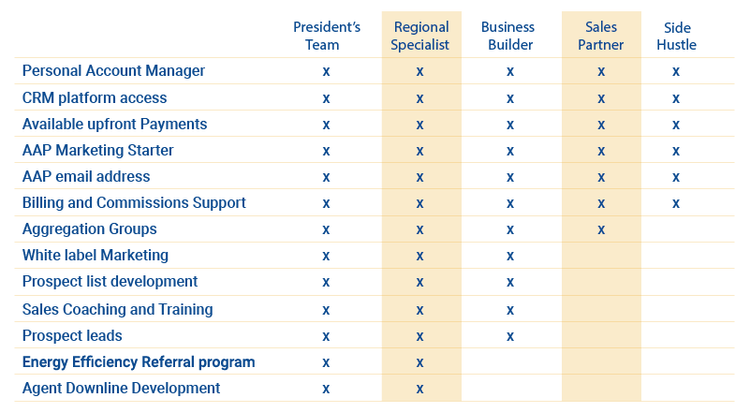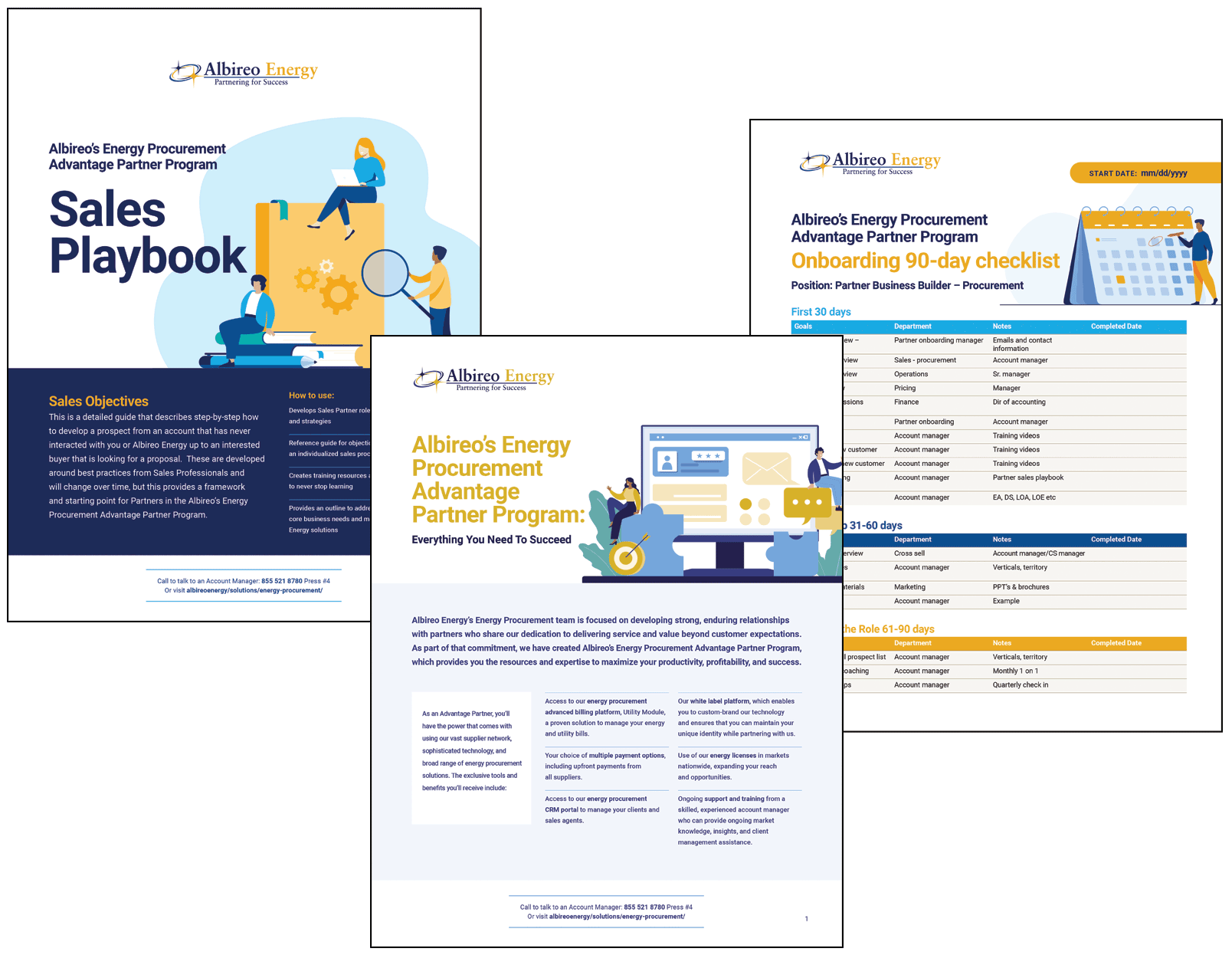 Frequently Asked Questions
How do I get paid?
The commission on the opportunities you close are directly deposited into the bank of your choice. Timing will depend on the payment plans available, this will be either upfront or residual on a monthly basis.
How does the commission split work?
Commissions work on either a percentage per deal or a deal-by-deal total commission basis.  Your Partner Onboarding Specialist will discuss and find the best plan for you.
Does it cost anything to sign up as an Albireo Advantage Partner?
There are no costs or fees. We provide all the tools, software, and resources – and you provide the work ethic and clients.
Is this a franchise or network marketing plan?
Not at all. Think of it as an outsourced provider of everything you need to build your business.   You develop the sales solution and strategy, and Albireo partners with you by providing software, marketing, access to markets, and business support.
How does the state licensing work?
When you are an Albireo Advantage Partner you are covered by our license to do business in deregulated states.
Will you contact my customers?
No, unless you provide express authorization or void your agreement.
What suppliers do you work with?
Albireo Energy works with 40-plus energy suppliers across the United States. We partner with the best-in-class suppliers, too, so you can be assured your customers are getting the most competitive rates, best contract terms, and premier service.
What are your benchmarking services?
Across the United States, building owners and managers have to comply with energy benchmarking laws and increase their energy efficiency.  As an Albireo Advantage Partner, compliance and reporting services are available to your clients – sometimes free of charge.
Can I sell to residential customers?
Currently, only multifamily residential building aggregations are available.
What type of training and ongoing support does the program offer?
Partners are provided with a 90-day checklist of training, support, and onboarding.  This ranges from instructional videos to one-on-one coaching and sales support, to connection with and training from our Pricing, Operations, and Commissions teams.  Our goal is simple: To have you up and selling within 90 days.
What markets can I sell in?
Albireo Energy is registered to sell in 17 states + DC for electricity and/or natural gas, and serves more than 80 utilities.
How do I get started?
Just fill out the information on the Become a Partner page and our Partner Onboarding Specialist will contact you to complete the process.
Become an Advantage Partner Today.
Want to speak to a Partner Specialist?
Call 855.521.8780 and Press 4